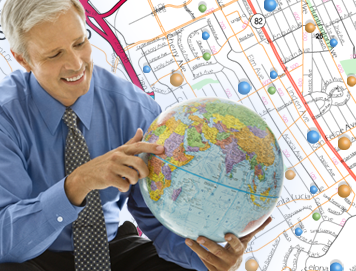 With GeoCoding, you can find directions, coordinates and locations based on data such ZIP codes and addresses. Customers can customize a search for the closest of your stores in their radius and benefit from immediate responses. GeoCoding brings your store to your customers with easy to use services and accurate results.
Why GeoSpatializer
Most Accurate Results
Rooftop GeoCoding
Over 25 years of GeoCoding!
Download your GeoCoded Report Instantly!
GbBIS has partnered with industry leaders in order to provide you with the most reliable data for your needs. The providers we use are specific to your individual business goals. All data is updated monthly and all postal data is CASS Certification compatible.

About GeoCoding
We have created an easy to use automated GeoCoding application that lets you upload your records, and in just a few quick minutes download a report with your records GeoCoded!
Uploading your records
Maximum file size 12 MB. For files larger than 12 MB, please call 1.888.434.6277 so we can work with you to get your reccords GeoCoded.
Accepted formats:
Excel (.xls, .xlsx)
Comma Separated Value (.csv)
Text (.txt)
Download your GeoCoded Report Instantely
Soon after uploading your records, it's just a few quick steps and you can download your GeoCoded report instantely. Select a file type and then download your report!
Available report formats:
Excel (.xls, .xlsx)
Comma Separated Value (.csv)
Text (.txt)
GeoCoding Options
We don't just offer the Latitude and Longitude of your records. We can add Census and Postal data and Demographics to your records. Below are the lists of available data that you can have GeoCoded to your records.
Enhanced GeoCoding

Advanced Demographics

Includes:
Intermediate GeoCoding
Neighborhood Classification (Mosaic)
Neighborhood Crime Score
ZIP+t dominant ethnic group (2010 census)
Median Household Income*
Population*
Number of Households*
* By current year neighborhood (block group) and
5 year projection neighborhood (block group)
Basic GeoCoding

Includes:
Latitude and Longitude
State postal code
County FIPS
Census tract
Block group
MCD
Metro Area
Household Income *
Population *
Number of Households*
* By 2010 Census County
Intermediate GeoCoding

Postal Data and Basic Demographics
Includes:
Basic GeoCoding
Carrier route
ZIP+4
Median Household Income*
Population*
Number of Households*
* By current year Zip code
Price Breakdown
*$10.00 Minimum
| QTY | Basic GeoCoding Price | Intermediate GeoCoding Price | Enhanced GeoCoding Price Price |
| --- | --- | --- | --- |
1 - 25,000

Records
$10.00 per thousand
$25.00 per thousand
$45.00 per thousand

25,001 - 50,000

Records
$9.50 per thousand
$23.75 per thousand
$42.75 per thousand

50,001 - 75,000

Records
$9.25 per thousand
$18.50 per thousand
$41.63 per thousand

75,001 - 100,000

Records
$9.00 per thousand
$18.00 per thousand
$40.50 per thousand

100,001 - 250,000

Records
$8.50 per thousand
$17.00 per thousand
$38.25 per thousand

250,001 - 500,000

Records
$8.00 per thousand
$16.00 per thousand
$36.00 per thousand

500,001 - 1,000,000

Records
$7.50 per thousand
$15.00 per thousand
$33.75 per thousand